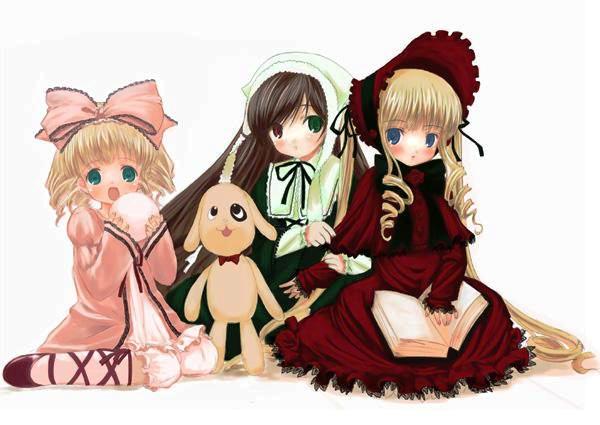 On instinct, I picked up a copy of the first volume of Rozen Maiden, covering the first four episodes. I'd forgotten that this was actually a really good show and that I liked the background music in this show. And that I actually liked Hinaichigo, though my favorite dolls are still Shinku, Suigintou, and Suiseiseki… I can't believe I actually admitted that (Gaaaa, flashback to childhood).

Ooookaaay, on with this so-called "review" thingy. In terms of the DVD itself, I didn't buy the collector's edition since I picked up the special edition of The Melancholy of Haruhi Suzumiya volume 2 in addition to all of Ichigo Mashimaro/Strawberry Marshmallow. As I mentioned, I liked the music of this show and still liked the same opening song when it was released. The only options that the DVD offered is the original Japanese version with subtitles and the English dubbed version. There weren't any extras other that the language option and the previews of other shows from Geneon. There was no animation or background music on the DVD menus, just the plain options to choose to play all, pick a chapter, and the extras. Basically, they didn't go all out on this release, but I get the feeling that this really isn't going to be a huge seller.
The release isn't bad overall (unlike this blog which aspires to that level), but I wasn't overwhelmed, let alone just whelmed, with the English dub. For some reason, I have it in my head that the dolls should have a European accent, preferably the Queen's English. The current voices are a little on the boring side. With the exception of Suiseiseki. I can't express how disappointed I am in that. It just doesn't fit with the queen of tsundere desuness. I don't think it worked at all. I think that Nori and Hinaichigo are cast the best in terms of voice acting with Suigintou not too far behind. The voices of Shinku and Jun really didn't do much and since they're the lead characters, most of my indifference is based on their performance.
I'm not going to talk about the story this this show has been out there for awhile. Despite the lackluster dub, I think it is still worth picking up because it is a good, solid show. Explaining why you have a show about a teen-aged shut-in who plays with living dolls is going to be tough, but then we all know people who can't miss the latest in snarky singing contests and TV shows that focus on the latest gossip of celebrities and what they're wearing, etc. So they can just back off. *Ahem*.
Image-wise, it looked fine. Story-wise, they pretty much presented it the way that I remember seeing it. Other than that, if you liked it or if you haven't seen this show, I think it is worth getting. The story is incredibly imaginative and while a little slow to begin with, it I think it's worth having in the library.
I'll buy the rest of the releases and will more than likely watch it with the subtitles unless I get lazy and just want to watch the show.