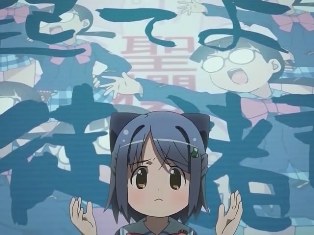 Support your local badger!
I wanted to watch this show because I wanted a light and fluffy show (I thought I had it in Shuffle! Memories, but noooo, they had to bring in a razor blade and more). But I thought this was a 100% loli show and I just wasn't really interested in that. Until I read Impz's post. So they're in high school and I guess the loli-like appearance is just a character design. I need a few more episodes to decide if I want to continue.

While I enjoy shows that don't have a over plot, and this one seems like it, there's just something missing so far. I like the energy shown by Manabi and Muchi. And Mei's tsundere-like act is alright so far, (I know, I know, Aya Hirano is voicing her) but will undoubtedly grow on me (dammit). Mika and Momoha haven't really made any sort of impression on me, but I'm sure that could change if I keep watching.
One thing that could stop me from watching is if every episode turns into a music video. In the first episode, Manabi sang the school anthem, and that's fine as it served the plot. But in the second episode, was there really a need to use the same song (I think it was the school anthem, I dunno, I stopped listening).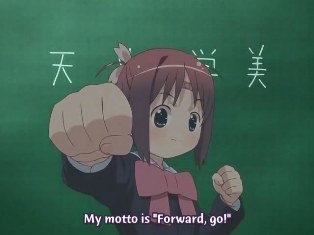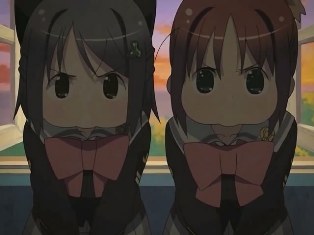 The second episode starts to get the show rolling. Manabi, Mika and eventually Muchi and Momoha (well, not so much Momoha) start to clean up the Student Council Room under Haruhi Mei's direction due to a visit from the Student Council President from a sister school. The team also sells off some items to other student in order to raise money to finish the remodeling of the room (I blame this on those @#%$ing 50,000 home decorating shows on t.v.). Thanks to a distraction from the team's homeroom teacher, they aren't shafted stopped by the teachers and Ayu's Mizuho's Manabi's plan on making school fun continues. Then the show reaches the music video portion as the girls go the the hardware store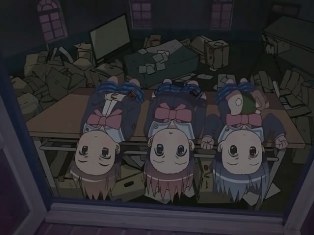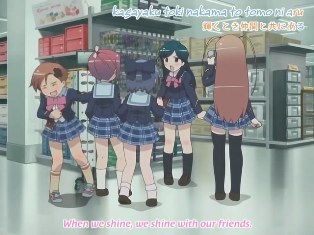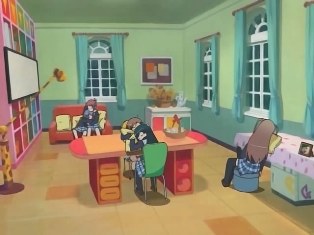 I like the premise of the show and that it takes place in the "relatively" near future is a nice twist. Also the back story of the declining birthrate is interesting, but I doubt that they'll address. And its that story element that makes me doubt that this show will be the light comedy I'm looking for. But then, there's Nodame Cantabile which I'm somewhat fairly familiar with. I just need a few more episodes to decide on whether or not I'll keep watching this one.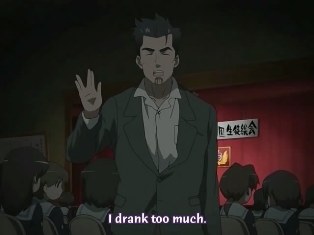 Keep your eyes on this guy. He's up to something.