I'm sure they will, but when they release the soundtrack to the show, I hope they include the piano song from the start of the episode. Not the them song, but the song used during the flashback scenes. I've only bought one show soundtrack based on one song that I liked. It was the soundtrack for the first season of current Battlestar Galactica and the song was "The Shape of Things to Come" by Bear McCreary. It was the final song of the last episode for that season. Much like "The Shape of Things to Come", that piano song (I wish I know what it was called) during the flashback scenes is very pleasant to listen to.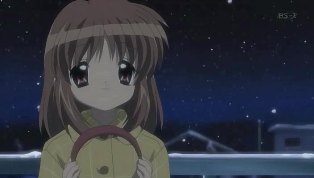 There really isn't much to say about this episode as its the start of a new arc. I liked the balcony discussion between Ayu and Yuuichi. I found it rather ominous in way, that neither could remember the day that Yuuichi gave her the headband (and I suspect that its going to be either then headband or the angel doll that she's looking for). The flashback scene later in the episode just reinforces it for me. I have to ask, just how did little Ayu climb that huge tree when there weren't any lower branches to climb up on.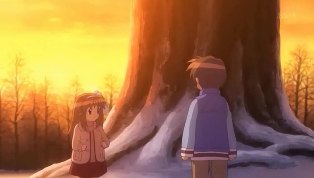 Just how did she climb that tree?
Ayu and Yuuichi meeting up at the bench to do another search for Ayu's lost item made a nice circle tying in their childhood to their present. After all, that's bench seems to be the catalyst for the two opening up to each other. In earlier episodes, we see that Ayu telling Yuuichi about the loss of her mother and in the final moments, the two open up about the losses they have had. And the bench served as a catalyst for a kiss.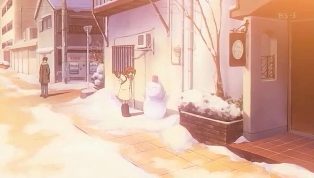 This was a cute scene. Yes, I said cute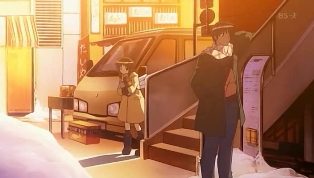 I'm actually glad they included the taiyaki stand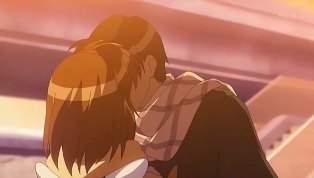 Yeah, about that kiss. It looked nice. But then I'm mean so I didn't really get any sense of romance from it. I don't know. The kiss between Haruhi and Kyon made more sense to be, but then Kyon was out to save his life the world then anything more romantic.