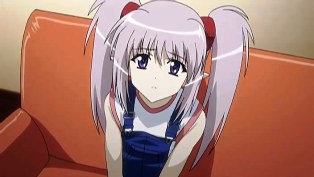 Ya know, every time I see Primula, I think of the tasty Norwegian cheese spread and the even tastier Norwegian mayonnaise that I grew up on.
I suppose its because this version of the show is more of clip job that we don't see any new material. Too bad. Its like watching a Quentin Tarantino film on a television network. You know the network has edited down most of the interesting parts and yet they're bragging about how they're pushing the edge of broadcasting. And yet, Kaede the in psycho-emo mode was pretty interesting to say the least. The way this episode was edited makes it look like Asa collapsed from Kaede's assault, but since its a clip show and we've seen that Asa had problems as a kid, I wouldn't be surprised if that was a returning issue that just happened to coincide with this episode.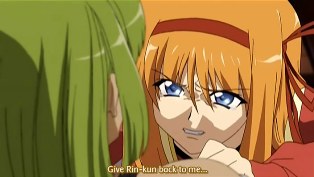 I do feel sorry for Kaede. All she can think of to keep Rin near her is to cook. She's at risk of becoming a rather one-dimensional person and character. While its not fair to compare Kaede to Asa, Kaede does compare to herself. Asa can cook and she does have more a personality than Kaede does. Kaede, in essence really doesn't come across as anything more than a live-in maid. Its too bad that this show is just put as a recap as opposed to being an entirely new show with new material, maybe even a new girl at the ending.