And end to a fun, fun show. Thanks Love Song, for working on this show. In episode 11, Akira wakes up, as a prisoner of Nakagomi. While she confronts Nakagomi, Taiko and Page meet up with other at the hospital where Daruma is recovering at. Much to their surprise, the comatose Daruma is not only awake, but redesigning the nurses uniform into every guy's fantasy nurse uniform. As they trio talk, Daruma urges them to get back together and to get Yui back. Box and Taiko are surprised by his attitude, pointing out that he was brutally beaten. Daruma explains that something inside of him made him fight, despite being outnumbered and wants them to fight too. They're overheard by Page, who had come to visit Daruma also.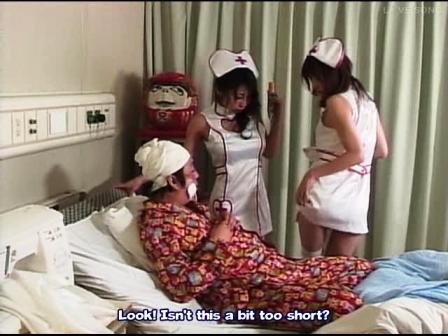 Page calls all the members back to the @DEEP offices, to explain why he shutdown Akihabra@DEEP. Basically, he was afraid to see his friends get hurt or worse. And to also get hurt or worse himself. to his surprise, even though they were angry with him, they were also thinking the same thing.
Acting on information from Azita, who tells them about Akira's break in, they hack into Digital Captial and find a video recording of Akira's fight and capture. They then get a video email from Nakagomi (dressed as Char). In it, he shows them an unconscious Akira (dressed as Rei) and Yui. In Nakagomi's office, Tousaka tells Shimoyamagi that he hacked into the company's financial data and found evidence of Nakagomi cooking the company's books, making it seen that they were more profitable then they really were. He then makes Shimoyamagi an offer he can't refuse. Back at the @DEEP office, the remaining team members get weapons (a Dragonball staff, and electric shock gloves) from Azita. They then head off to sneak into Digital Capital.
As they rush off, they see a group of tv news crews gathered at the front of Digital Capital. It turns out that Nakagomi has ousted and replaced by Shimoaygami (with Tousaka's help) and that there's an arrest warrant out for Nakagomi. The @DEEP group use the gathered tv news crews as a diversion and sneak into the company. Right then the police show up and arrest Shimoyagami, as the CEO, for fraud. The @DEEP team get into the building's basement and run into Nakagomi's security guards. After the fight, Izumu, Page, Taiko, and Box keep looking for Akira. As they look, they're ambushed by Nakagomi, wearing a powered replica of Char's Zaku mobile suit.
Nakagomi rushes in and starts attacking them, beating them up with the power of his armor. After beating them down, Nakagomi turns on a lcd that's embedded in his armor. On the lcd, the @DEEP team see Yui's AI. Nakagomi warns that if Page and Box use their electric gloves on him, they'll kill Yui. Yui tells Page to destroy her and save Akira. She tells Page and the rest of the team that they've changed, because of their friendship with each other, that they've become stronger people. Nakagomi starts attacking Page again when Taiko rushes in and grabs Nakagomi, shouting at Box to hit him with his electric glove. Box hits Taiko and shocks him and Nakagomi, making it impossible for Nakagomi to move. Page comes and finishes Nakagomi off, immobilizing his Zaku armor. The electric lock on Akira's cage unlocks and Box runs over to get Akira out. As the power run out, Yui says her good bye to the team and tells Nakagomi, that money can't buy friends. After Yui's power runs out, the police rush in and arrest Nakagomi, who warns the @DEEP team that (like all good[and stereotypical] bad guys) that he'll be back.
Sure, some of the emo acting was little over the top in this episode, but still, this was a fun show to watch.I really liked the characters and the actors. The interactions between everyone sure made it enjoyable to watch. And having Nakagomi in a Gundam suit was just great. I've already put it on my list to buy the DVD (if it's still available) when I finally gain some level of understanding Japanese. It was a little brutal at times, but compared to most shows here, this was nearly a family-friendly show. I've always said that the actors on this show portrayed their characters honestly and seemed to have fun with it. If you get the chance to watch this one, please do. It's a good thing that Sexy Voice and Robo is available otherwise I wouldn't have much to watch