Well, this show was a surprisingly enjoyable one. More humorous than laugh out loud funny, it was a very well done show. It shouldn't be surprising, really. All of the characters are likable. Even the secondary charaacters like Takako, the slacker teacher and the school's principal. I think this easily ranks up there as one of my favorites and one that I gets licensed over here.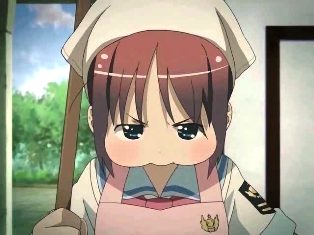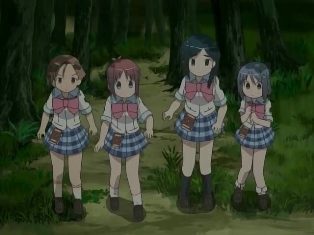 As I mentioned before, I found it to be a very inspirational show. In watching Manabi work with a vision so real in her mind, that she was able to inspire a seemingly jaded school and its administration to work towards it. It brought to mind the goals that I have and a new desire to get to them. Start with the finish in mind and get there. Pretty simple thinking. It my take time, but you'll get there. Who knows, maybe you'll be joined on the way by people who can help you achieve your goals.
I wasn't surprised that the school turned out to help Manabi and the student council clean up the old dorms (though I was surprised that clock towers can explode), giving Manabi the opportunity to re-energize the drive to saving the school fair. The only things that really stood out for me in episode 10 was Mei's realization that she had (and to an extent needs) friends and that Takako, despite being stuck in between her friendship with Manabi and her school's superintendent, was openly supportive of Manabi's school fair drive. Even as adults, some might be to afraid to show that level of openness.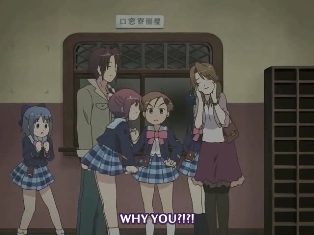 Takako scored more points when she pointed out that Manabi could already see the school fair in episode 11. despite having to wait in the student council office as the fair was on, Takako had learned to see the fair as completed - the image that Manabi had all along when she was explaining her vision to Takako earlier in the series. All of which goes back to what I've tried to express, start with an image the goal completed as how you see it and work towards it. In this case, Manabi succeeded in getting the fair up and running. While a little obvious, it was nice to see that the superintendent had a change of mind about the fair.
I suppose that The Melancholy of Haruhi Suzumiya has spoiled me in terms of school fair concerts. Where was the bunny suit? Where was the witch outfit. Why didn't Mei sing "God Knows" or "Lost my music"? I want my rock bunny! Ahem.
I think it's an interesting point that Mika makes about Manabi when she asks Manabi how she sees the world. How she can find the interesting in a world that others would think of as boring or normal. In seeing your goal completed, I think it stands to reason that you have to see some things differently. You have to get excited about your goal, because no one else will. Sure, you'll find encouragement along the way, but the image of your completed goal is yours alone. So, go forward and get to your goal.